After a nice amount of teasing us, Jordan brand reveals that a documentary in honor of the legend is in the making. Here's all we know so far about the "Unbanned" The Legend of Air Jordan 1 documentary.
Teasing Campaign
Jordan Brand began a teasing campaign for the Air Jordan 1 documentary back on February 7, 2018. The teaser we saw on a billboard in LA had every sneakerhead and their mother curious AF.
Interesting Air Jordan 1billboard just went up today in Los Angeles…https://t.co/Z5ZGbQAbuA pic.twitter.com/7SC2bn6WNq

— Sneaker News (@SneakerNews) February 7, 2018
On the poster is the name of the production: "Unbanned The Legend of AJ1" along with the style code of the OG 1985 Air Jordan 1 Bred: 850911BY.
Finally, on the bottom of the poster, there's a link to UnbanTheLegend. Consequently, curious fans visited the site only to find the same "Unbanned" graphics as on the poster, and an 'unbox in' countdown timer that ends on June 2, 2018.
👀 Documentary about the shoe that changed the world. Available for purchase, Summer 2018 https://t.co/KqnqCWaXCg

h/t @kustoo pic.twitter.com/RthKWi56gi

— J23 iPhone App (@J23app) February 7, 2018
The Air Jordan 1 Documentary
Today we have clearer information about the Air Jordan 1 documentary, "Unbanned". As per the website, the cast and crew include Chuck D, Lena Waithe, Michael B. Jordan, Anthony Anderson, Spike Lee, Dexton Deboree.
The world premiere of the "Unbanned" The Legend of Air Jordan 1 documentary will screen at the Tribeca Film Festival on April 27, 2018. The tickets are being sold here.
Here's the official trailer for the documentary:
In addition, as a way to give back to the people, part of the proceeds from this documentary will go to "causes focused on youth development and social education through sport and culture within disadvantaged communities."
But what are those?
According to several different sources, the Nike Air Ships in Black/Red may have actually been the ones to get banned first. While others say these are just prototypes of the first Air Jordan 1- OG of the OG.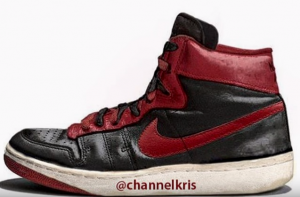 However, what would we make of the iconic Air Jordan 1 commercial featured in the opening of the trailer?
Whether Nike is rewriting history or not, we'll know in the documentary. The production is sure to offer us more insight on the Legend! So we can't wait for the answers to all our questions in June.